News & Upcoming Events
2015 Special Recognition Award
Deborah receives 2015 Special Recognition Betty Bowen Award from Seattle Art Museum.
2015 Twining Humber Award
Deborah receives 2015 Irving and Yvonne Twining Humber Award for 39 years of outstanding collage work.
Seattle Times April 28, 2017
Deborah's piece "Lucky for You" is reproduced in the Visual Arts Section.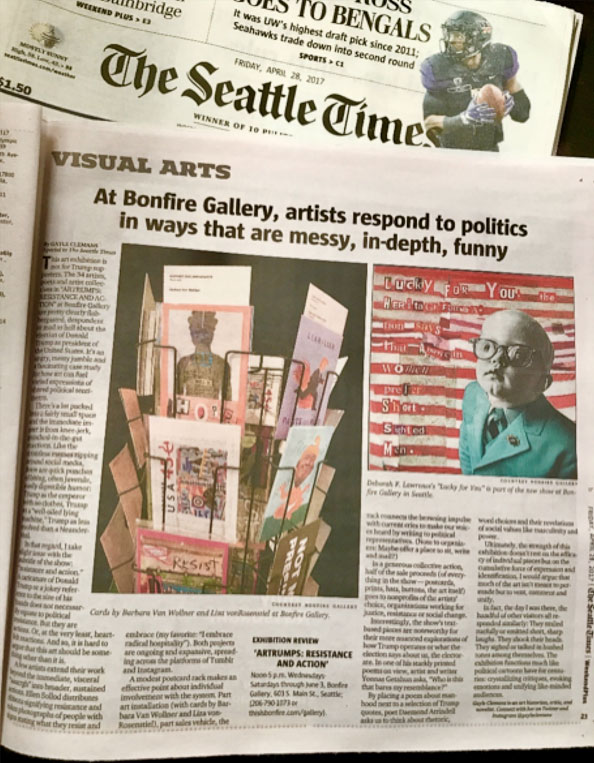 ---



Ongoing collage workshops with Deborah Faye Lawrence, MFA at Artist & Craftsman Supply in Seattle's University District. To register or ask questions contact Deborah at deborahfayelawrence@q.com.

Location: The Classroom Space at Artist & Craftsman Supply, 4350 8th Avenue NE, Seattle, WA 98105. View classroom schedule here: http://www.theclassroomspace.com/ …"

Join Seattle Artist and Educator Deborah Faye Lawrence, "The Queen of Collage," for a series of fun workshops exploring the remarkable versatility of collage, the friendliest of art forms. Easy-going atmosphere, basic instruction in visual art fundamentals, supportive discussion and artistic critique.

Most materials and tools provided. Please plan to bring dozens of your own magazines, personal photographs, letters, postcards, books you don't mind cutting up, etc.

Deborah's email: deborahfayelawrence@q.com

---
Dee Dee on TV
The fascinating artistic process of Deborah Faye Lawrence's collage practice is featured in a one minute segment of Art Zone with Nancy Guppy on the Seattle Channel, April 2011.

BipARTisan
On March 16, 2011, Deborah F. Lawrence joined artists Pam Keeley, Kevin Wildermuth, Stevie Webb, Ellen Ito, and Linda Davidson to work on a 20 x 35-foot collaborative mural in a student lounge at University of Washington, Tacoma. Using paint, collage, drawing and stencils, and with no strategic plan, they set out to visually document "bipartisanship": the idea that disparate entities can coexist, and flourish, if work is undertaken with the intention of doing so. The artists visually addressed hot topics of the day: President Obama, the nuclear disaster at Fukushima, the Tea Party, the people's movement in Wisconsin, greed, hierarchy, nurturance, and the interconnectedness of all things. The mural was completed May 14, and is open to the public. Location: BHS Student Lounge, University of Washington, Tacoma., on Pacific Ave, upstairs above the University Bookstore.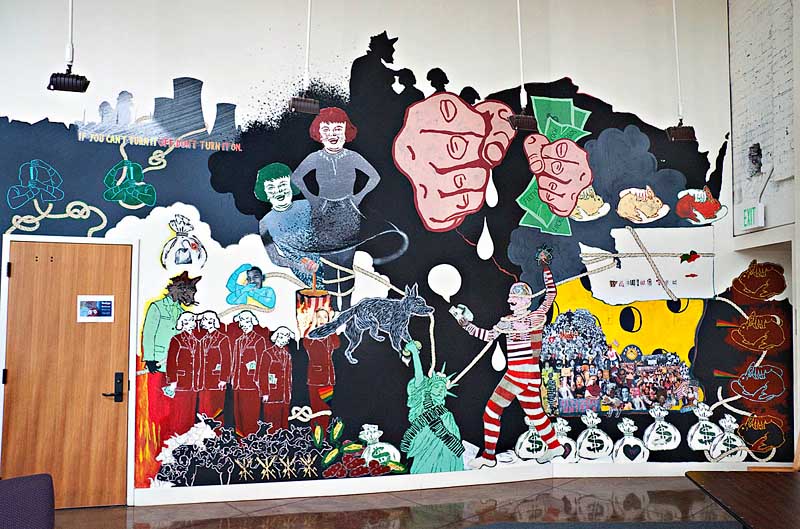 photo by Kevin Wildermuth
---
Get the definitive book! Available while supplies last…

The book by Deborah Faye Lawrence

AVAILABLE NOW

Published by Marquand Books, Inc., Seattle
44 pages
31 color illustrations
Hardcover, 10" wide by 14" high, portrait format
ISBN: 978-0-9778028-4-5
$35.00

Available now through D.A.P./Distributed Art Publishers
155 Sixth Avenue, 2nd Floor
New York, NY 10013
www.artbook.com

Also available directly from Deborah Lawrence. Contact her at
---
---
Links:
Art Rage Gallery
http://artragegallery.org/cutting-up-capitalism
Film Society at Lincoln Center
http://www.filmlinc.com/wrt/gallery/deedeedoesutopia.htm
Download Announcement
Creative Capital
https://www.creative-capital.org/projects/view/107